"PC CADDIE meets our highest economic and organizational policies, and will continue to do this in the future."
Christian Relling
Clubhaus AG
"PC CADDIE provides expert support and reliable data for business analysis."
Berthold Apel
Managing director
Hamburger Golf-Club e.V.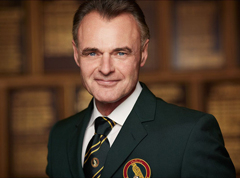 "PC CADDIE administers our Luxembourg intranet – quick, maintenance free, and with professional support."
Christian Schock
President
Luxembourg Golf Federation
"Perfect integration of golf facilities and hotel, controlling, restaurant, pro shop, online, screen and App – an unique offer for the international golf software segment from PC CADDIE."
Petros Tourgaidis
Golf director
Golfresort Costa Navarino
The 32 Bit PC CADDIE combines the latest software, database, and security technologies and allows the easy addition of future, high-performance modules.
Client/server database technologies offer support to the PC CADDIE network activities. As such, PC CADDIE offers an extremely quick network activity, while guaranteeing data security and integrity.
Powerful, fast and secure in the network
For the PC CADDIE network operations is ensured by one of the most lightweight relational database management systems on the market. The Advantage Database Server® (ADS) provides PC CADDIE with simple and reliable access to all data, and it is constantly upgraded. With optimum performance, high availability and a fraction of the cost and maintenance requirements, the ADS has established itself as a real alternative to traditional SQL databases.
Maximum flexibility: this is how we provide your PC CADDIE, fully functional on a terminal server. A 24/7 support for hardware and infrastructure is ensured. Your data is kept safe because the server runs as a virtual machine in a HyperV environment. The full backup of the complete HyperV server is performed once per day on an external NAS in a data centre. All maintenance work is ensured: updating the operating system, antivirus, as well as the ADS database server.
Our RDS solution, if you manage multiple clubs at different locations, and need to transfer and synchronize business-relevant data to a central administration. Fully functional on your own terminal server, or on ours.
General technical requirements