"PC CADDIE meets our highest economic and organizational policies, and will continue to do this in the future."
Christian Relling
Clubhaus AG
"PC CADDIE provides expert support and reliable data for business analysis."
Berthold Apel
Managing director
Hamburger Golf-Club e.V.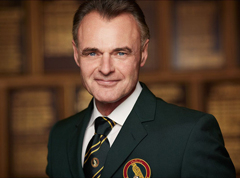 "PC CADDIE administers our Luxembourg intranet – quick, maintenance free, and with professional support."
Christian Schock
President
Luxembourg Golf Federation
"Perfect integration of golf facilities and hotel, controlling, restaurant, pro shop, online, screen and App – an unique offer for the international golf software segment from PC CADDIE."
Petros Tourgaidis
Golf director
Golfresort Costa Navarino
With our PC CADDIE://online products your club website looks professional, you present only up-to-date information, and ensure the return of your visitors. Golfers and customers will get a quick overview of the availability of your golf course - 27 holes, tournaments or coach booking, live from your local PC CADDIE golf software.
The professional real-time booking system, fully integrated into your own website - this 24/7 support available for members and guests rounds-up your services offer. It will free up your phone line – while the pros personally teach their students, the on-line reservation system takes care of more customers.
Everything about the tournament ://online on your club website. With the online tournament bookings you don't have to perform the same task twice anymore. The real-time application is a reality. All applications are automatically registered in the tournament. A photo and a small text can be transmitted to your website without any programming knowledge, after the tournament.
Everything displayed on one screen: information about location, competition, start and result lists, weather, news, and pictures – Full HD in the clubhouse or outdoor.
Maximum flexibility: this is how we provide your PC CADDIE, fully functional on a terminal server. A 24/7 support for hardware and infrastructure is ensured. Your data is kept safe because the server runs as a virtual machine in a HyperV environment. The full backup of the complete HyperV server is performed once per day on an external NAS in a data centre. All maintenance work is ensured: updating the operating system, antivirus, as well as the ADS database server.
Schützen Sie sich vor einem kompletten Datenverlust oder vor Trojanern, die ihre Daten verschlüsseln. Nicht nur die PC CADDIE Daten, auch andere gewünschte Softwareanwendungen und Dokumente werden verschlüsselt in ein deutsches Rechenzentrum kopiert und verwahrt, auf hohen Sicherheitsstandards.